I stumbled upon this beautiful blog,
The Daily Coyote
, some time ago, and today with snow covering the ground and temperatures at -3 degrees, this clip below is full of sunshine, great music and a simpler way of life in Wyoming.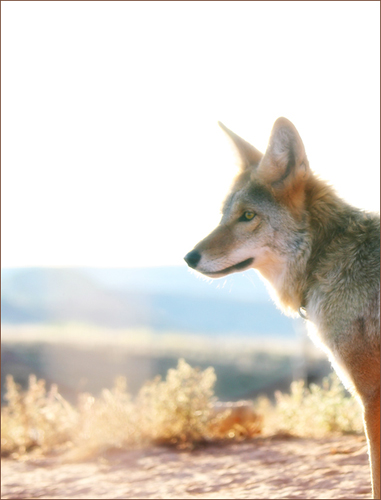 Charlie, a coyote pup, was rescued at 7 weeks when his parent's were killed by ranchers for killing sheep. He was has become part of the family at the ranch of a young married couple living in Wyoming.
We hear coyotes calling in the evenings at the farm, but never see them. There are so many wide open spaces surrounding the farm and lots of game, so they never approach the farms for food. They remain mysterious shadows that come out at night to call to one another in the night.
I have been spending alot of time in the studio over the past week getting ready for a show in early February....lots to share, and I will as soon as I take time to get the camera out to a shoot....but when the creative juices are flowing, it's hard to pause..... I will share with you soon...
Until then enjoy this video of Charlie ...
The Daily Coyote - Charlie and the Afternoon Elk Snack from daily coyote on Vimeo.